These are the gowns that caught my eye at the Golden Globes 2010:
1.
Drew Barrymore
in an
Atelier Versace
design with clusters of beads at the shoulder and hip. I think those details were something unexpected yet very feminine. Love her hair and make up. She looked chic and beautiful. Jimmy Choo sandals and Roger Vivier clutch, completed the whole look.
1. Drew Barrymore en un traje de Atelier Versace, lleva detalles en pedreria en los hombros y cadera. Pienso que estos detalles fueron algo inesperado, pero muy femenino. Me encanto su cabello y maquillaje. Ella lucio super impecable y hermosa. Unas sandalias Jimmy Choo y clutch de Roger Vivier completaron el look.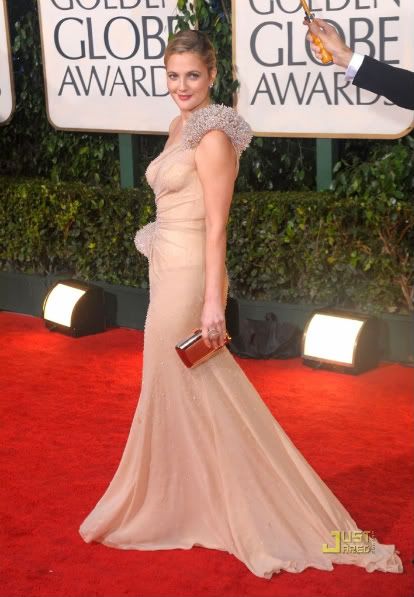 2.
Ginnifer Goodwin
in a blue dress by
Vionet
. I adore the way this dress is draped around her body. There's a perfect balance in the whole dress, especially because of the belt which creates a beautiful hourglass shape. I also love the color, it immediately stood out. Brian Atwood Pumps and Judith Leiber silver clutch and cuff completed the look.
2. Ginnifer Goodwin en un vestido azul eléctrico de Vionet. Me encanta el drapeado (draping) del vestido, pienso que envuelve la figura de una manera delicada y femenina. El balance es perfecto debido al cinturón que crea una figura de reloj de arena. El color azul llamo mi atención de inmediato. Unos pumps de Brian Atwood y un brazalete y clutch de Judith Leiber completaron el look.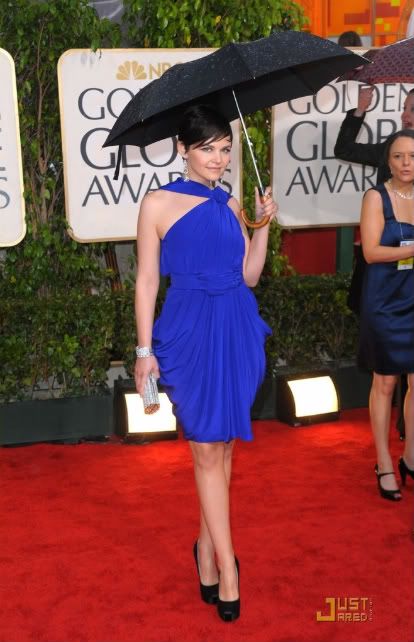 3.
Diane Kruger
in a
Christian Lacroix
Haute Couture gown. I love the hot pink shade and intricate construction at the shoulders, they look like petals. A white clutch by Raven Kauffman and Chanel jewels complete the look.
3. Diane Kruger en un traje Haute Couture de Christian Lacroix. Me encanto el color rosa brillante, los detalles en el pecho y hombros parecian petalos de rosa. Un clutch de color blanco de Raven Kauffman y Joyas de Chanel completaron el look.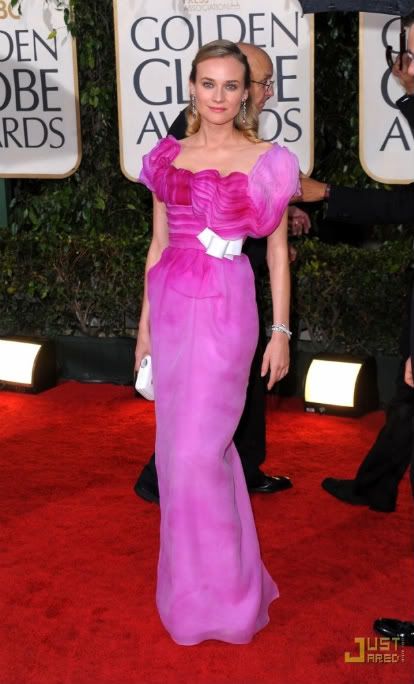 4. Anna Kendrick in an embellished Marchesa one-shoulder gown. I love Marchesa and this gown is simply beautiful. I also love her beautiful makeup and hair. She paired her gown with Christian Louboutin satin pumps and a Judith Leiber clutch.
4. Anna Kendrick lució un hermoso traje con aplicaciones de pedrería de un solo hombro. También me encanto su maquillaje y peinado. Los diseños de Marquesa siempre son muy femeninos y únicos. Ella acompaño este hermoso vestido con unos pumps de satín y un clutch de Judith Leiber.
5. Kate Hudson in another ethereal and romantic Marchesa gown.
I think Kate looked lovely, I especially love her pose in this photo. Unfortunately, I couldn't find a photo of her showing the train of the gown.
5. Kate Hudson en otro hermoso y romantico gown de Marquesa. Kate lucio muy linda, me encanto la pose que hizo en esta foto, lamentablemente no pude conseguie una foto donde mostrara el vestido completo.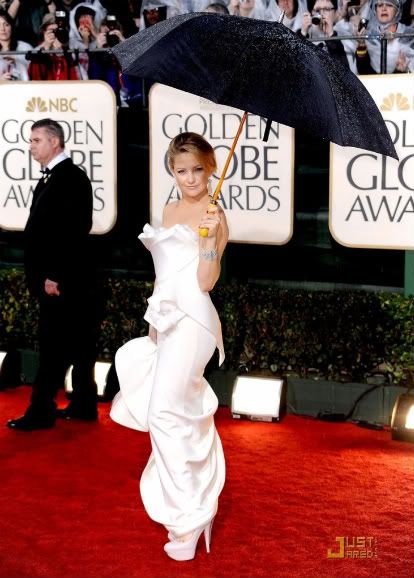 6.
Marion Cotillard
wore a single shoulder satin
Christian Dior
design and Jimmy Choo sandals. The construction of dress is fabulous. The lace trimmed slip caught my eye because it's a sexy detail which follows the lingerie trend.
6. Marion Cotillard lucio un vestido de satín con un solo hombro de Christian Dior y un par de sandalias de Jimmy sandals. El detalle de encaje dentro del vestido llamó mi atención, ademas del diseño y la forma del vestido.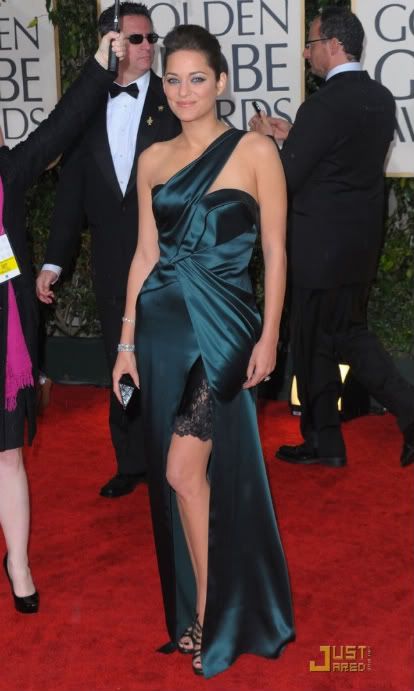 7.
Maggie Gyllenhaal wore a peachy-pink by Roland Mouret gown with origami-like details. I love the construction of this dress, and the color is a breath of fresh air, feminine and romantic. Unfortunately the photo doesn't show the exact color. When I saw the color of the dress on T.V. it was a little darker.
7. Maggie Gyllenhaal lucio un vestido color rosa-peach o melón de Roland Mouret con detalles de origami. Me encantaron los detalles de vestido y el color tan fresco, femenino y romántico. Lamentablemente la foto no refleja el color exacto del vestido, en televisión se veía de un color un poco mas oscuro.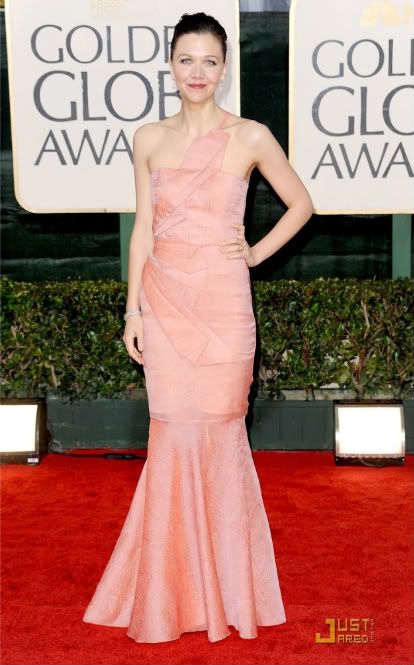 8. Penelope Cruz in a Giorgio Armani Prive gown with an horizontal ribbon striping and lacy details at the top and sleeves. This timeless gown has a beautiful silhouette and a Spanish flair. Penelope looks simply stunning as always.
8. Penelope Cruz lucio un modelo de Armani Prive con lazos horizontales y detalles en encajes en las mangas. Este clásico vestido tiene una bella silueta y un toque Español. Penelope luce bellísima como siempre.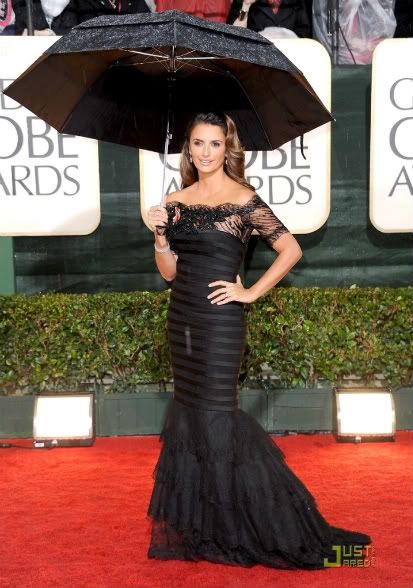 9. Sandra Bullock in a bright violet strapless gown by Bottega Veneta made me smile. I love violet because it's a color that always stands out in any red carpet event. The fabric of the gown was also very convinient due to the heavy rain in Los Angeles yesterday.
9. El traje strapless color violeta de Bottega Veneta que lució Sandra Bullock, me hizo sonreír. Me encanta el color violeta porque es un color que siempre resalta en cualquier alfombra roja. La tela de vestido fue super apropiada debido a la fuerte lluvia que hubo ayer en Los Angeles.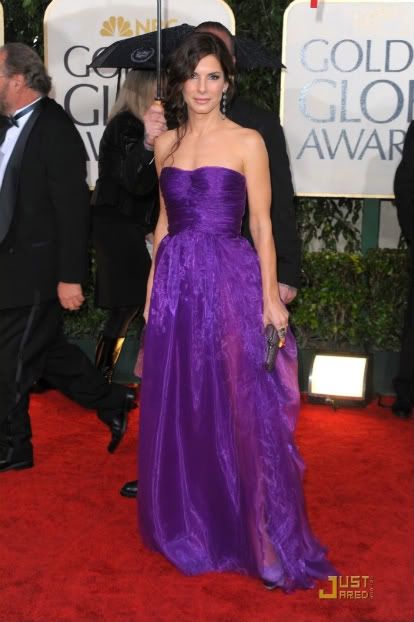 10. Halle Berry always knows how to look super sexy on the red carpet. The stunning gown by Kaufman Franco has a sexy open back and lace inserts. I think only Halle Berry can pull off a gown like this and look super chic.
10.
Halle Berry siempre sabe como lucir super sexy en la alfombra roja. El bello traje de Kaufman Franco tiene un sexy escote en la espalda y detalles en encaje. Pienso que solo Halle Berry puede lucir un traje como este y lucir super chic.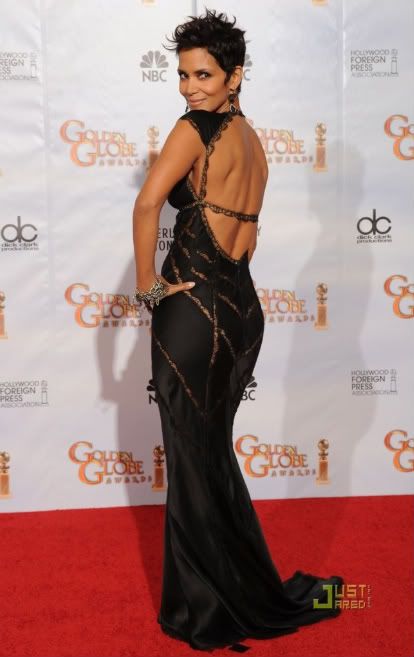 Which ones were your favorites? I'd love to know :)
Cuales fueron sus favoritos? Me encantaria saber :)
*Please don't forget that people in Haiti needs our help. The New York times has published a list of organizations to help Haiti, please check them out
here