I'm currently loving these

Modcloth

dresses...they're very feminine, sweet and romantic. I think they're easy to mix and match and most of all, they're so unique! I especially love the attention to detail in each piece.
I was checking out the new arrivals on Modcloth and found lots of adorable pieces; I can't help myself, but I always get excited when I check out their dresses and accessories, that's why I wanted to share with you some of my favorite finds! I hope you like them.
I also wanted to thank you for the lovely comments on the Lovelies! Your support means the world to me! Thank you from the bottom of my heart!
Estoy enamorada de estos vestidos de

Modcloth

...son tan femeninos, dulces y románticos. Pienso que son muy fáciles de combinar, pero lo que mas me gustan es que lucen únicos! Particularmente me encanta el detalle en cada pieza.
Estuve mirando la pagina de Modcloth y no puedo evitar emocionarme cada vez que encuentro algo que me gusta como los vestidos o los accesorios! Por eso escogí algunas de mis piezas favoritas para compartirlas con ustedes, espero que les guste. También quería aprovechar para agradecerles por los lindos comentarios en el concurso de Lovelies! Todo el apoyo recibido significa mucho para mi! Gracias desde el fondo de mi corazón!
1
Oh I found this picture and I used it
as inspiration for dresses 1 & 2
Oh encontré esta foto y la use de inspiración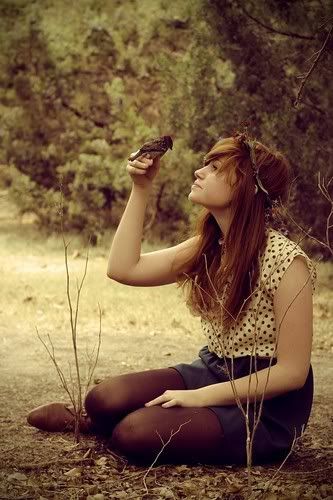 I think these dresses are not only very flattering,
but also feminine and lovely!I love the bow pattern in dress 1!
I adore the tiny flowers in dress 2, I also think it accentuates
the waist perfectly. Love it!
Pienso que estos vestidos no solo favorecen la figura,
si no que son super lindos y femeninos! Me encanta el estampado de
lazo del vestido 1! También adoro el vestido 2 de flores pequeñitas,
pienso que acentúa la cintura perfectamente.
I also love this photo, every time I see it,
it makes me want to wear a soft and romantic
dress, or something very feminine.
Me encanta esta foto, cada vez que la veo,
me da ganas de ponerme un vestido suave y romántico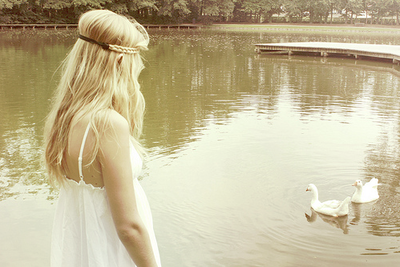 The dress below (left) is simply gorgeous, you don't need
too many accessories for this one, the embroidery detail says it all.
This crocheted vest is one of the cutest vests I've ever seen,
so delicate and feminine..it can be the main piece in any outfit.
El detalle se encuentra con la perfección!
Este vestido de abajo (izquierda) es simplemente hermoso,
no se necesitan muchos accesorios, el detalle del bordado lo dice todo.
Este chaleco a crochet tiene que ser uno de los mas lindos que he visto,
es tan delicado y femenino...
Puede ser la pieza principal en cualquier outfit.
I can't help it, but I love flowers, not only in dresses,
but also in accessories, jewelry, you name it..
that's why I inmediately felt inspired by this photo.
No puedo evitar que me encanten las flores, tanto en
los vestidos, como en los accesorios, joyas, etc.
Por eso me senti inspirada por esta foto.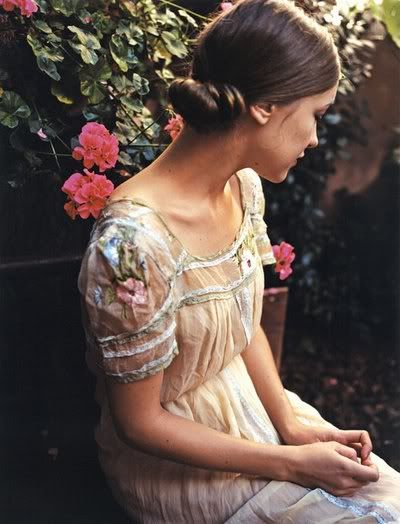 I think dress 3 has the cutest details, I especially adore
the embroidered hem. Dress 4 has the perfect floral pattern!
I love it..simply adorable!
Pienso que el vestido 3 tiene los detalles mas lindos,
adoro especialmente la parte bordada de abajo.
El vestido 4 tiene el estampado floral perfecto!
Me encanta, simplemente adorable!
*To find dress 1 click
here
* To find dress 2 click
here
* For the embroidered dress, click
here
* For the crocheted vest, click
here

I also wanted to say that my thoughts and prayers are with the people in Chile. It's just February, and we have already seen two countries hit by an earthquake. This is very sad.
Here's a link with a list of organizations where you can help the victims of the earthquake:
Help Chile
.
Thank you!
También quería decir que mis pensamientos y oraciones están con toda la gente en Chile. Estamos en Febrero y ya hemos visto dos países tocados por la tragedia debido a un terremoto. Aquí les dejo un link con una lista de organizaciones donde pueden ayudar a las víctimas de este terremoto:
Ayuda a Chile
Gracias!