Spring is here! The last two days were sunny during the morning here in California, oh I love Spring! It's my favorite Season along with Fall :) so in order to have our wardrobes ready for this lovely Season, here are some essential pieces I wanted to share with you:
Ya es primavera aquí en California, me encanta la primavera es mi estación favorita junto con el Otoño :) Para tener tu closet listo para esta linda temporada, aqui te dejo con algunas piezas esenciales:
*Spring - Summer Essentials*
1. Mixing patterns: I think that the best way to pull off this trend, is combining 1 bold print + 1 simple pattern, for example: Florals + stripes / Florals + polka dots / Stripes + Polka dots (tiny ones), etc. See looks below.
1. Mezclar patterns (rayas, estampados, etc.) Pienso que la mejor manera de llevar esta tendencia es combinando 1 print fuerte + 1 estampado simple, por ejemplo: Flores + rayas / Flores + puntitos / Puntitos + Rayas /etc. Ver looks de abajo
2. Lace bodysuits: Lingerie used as everyday clothing is a very popular trend these days, but again if you combine it with a more sophisticated piece, it's going to look great or if your style is more urban-grunge, wear it with a pair of denim shorts and it would look great too.
2. Los bodysuits: la ropa de encaje tipo lenceria esta de moda, pero si la combinas con alguna prenda mas sofisticada, puedes obtener un look super lindo o si tu estilo es mas urbano-grunge, entonces unos shorts de denim lucirán perfectos también.
3. A white blazer! This is a 'must' in every closet, I love the way it looks with shorts.
3. Un blazer en color blanco! es una prenda indispensable en cualquier closet, me encanta como lucen con shorts.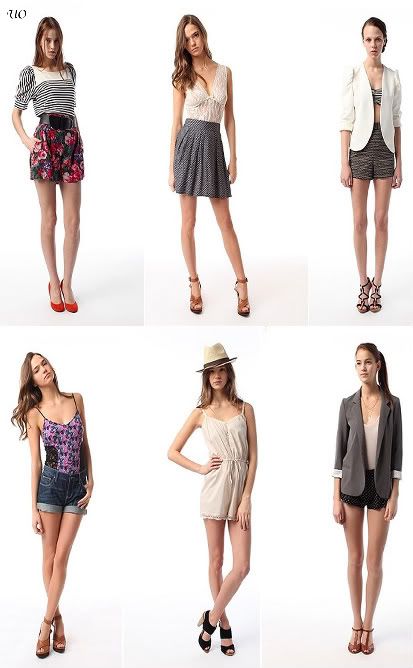 4. A little cardigan or blazer over a bodysuit: As I said before the body suit is back! You can find it in different fabrics and colors now, I love the lacy ones under a cardigan or boyfriend blazer.
4.Un pequeño cardigan o blazer sobre un bodysuit: Como lo dije anteriormente el body suit esta de regreso! Puedes encontrarlos en diferentes colores y telas, a mi me encantan debajo de un boyfriend blazer o cardigan.
5. The Romper is also back, I've seen it in every magazine as well as on the street; my favorites are the floral rompers along with the ones made out of cotton, lace and eyelet fabric.
5. El Romper (enterizo corto) está de regreso también, lo he visto en muchas revistas así como a las chicas en la calle; mis favoritos son los floreados y los hechos con encaje, algodón y tela eyelet.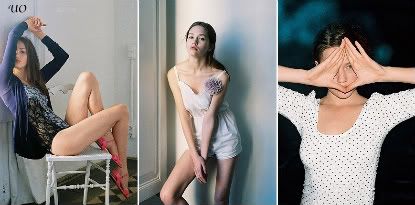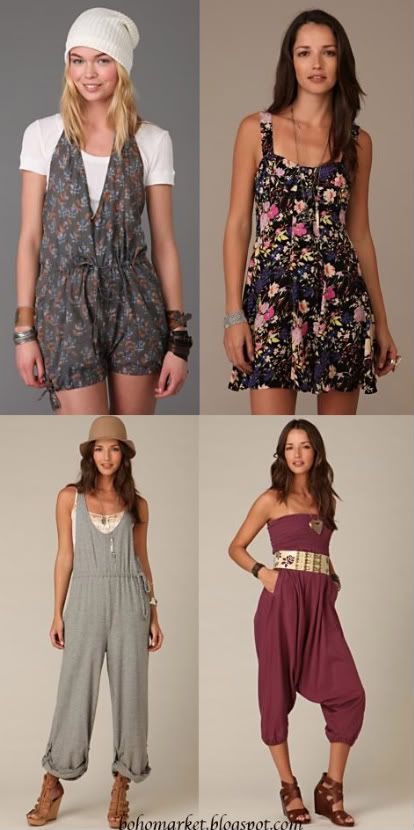 6. Patterns are perfect for Spring, polka dots, little stars, hearts, STRIPES, you can wear them with solids or mix them with other tiny patterns. See the moodboard 6 :)
6. Los estampados y gráficos son perfectos para la primavera, pequeños circulos, estrellitas, corazones, y Rayas mezclados con otras piezas de color solido u otras piezas con gráficos pequeños. Ver el collage 6 :)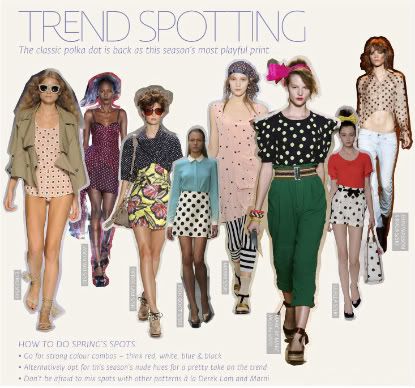 7. Ethnic and whimsical prints are also hot! The great thing about them is the versatility. They also make any outfit stand out. Look at this beautiful printed dress in 3 different looks!
7. Los estampados étnicos están muy de moda estos días! Lo bueno de ellos es la versatilidad. Pueden hacer que cualquier outfit resalte. Mira este lindo vestido estampado en tres looks distintos!
8.
Florals are always on fashion, and of course Spring is the perfect season! Mini dresses, ruffled hems, tiared skirts, you name it! Everything dreamy and femenine! And the floral romper! Isn't it cute?
8. Las flores siempre estan de moda y mas aun en Primavera! Mini vestidos, faldas con vuelos, etc. Todo lo romántico y femenino esta de moda! Y por supuesto no podía faltar nuevamente el romper floreado, que les parece?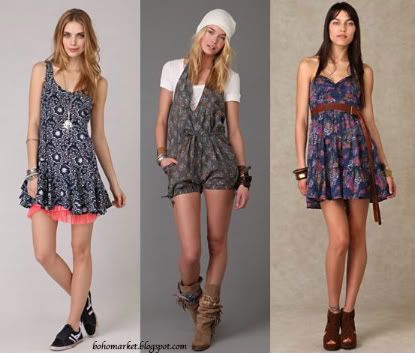 9. As I said before all kind of romantic and dreamy dresses are hot for Spring! Pale colors or pastels, neutrals...
If you want to give this romantic look a little grunge touch, just add elements like hats, boyish boots, accessories, etc.
9. Como dije anteriormente, todo lo romántico y femenino, especialmente los vestidos, están de moda para la primavera! Colores pálidos o pasteles, neutrales...Si quieres darle a este look romántico un toque grunge, solo tienes que agregrar elementos como el sombrero, las botas masculinas, accesorios, etc.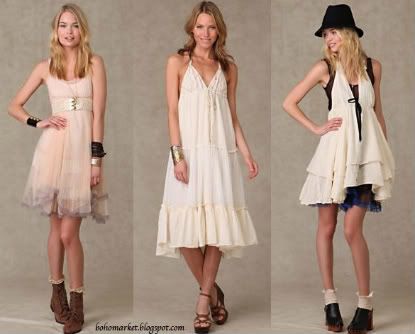 10. Denim: Light denim is another must have for Spring, pair it with a lovely mini dress, a feminine top, or a romantic mini skirt (tutu), or just a denim mini dress, I mean, there are hundreds of options...
10. El denim liviano es otro 'must' esta Primavera, usalo con un mini dress, una blusa femenina o una mini romantica tipo tutu, o simplemente un mini vestido de denim, hay muchas opciones...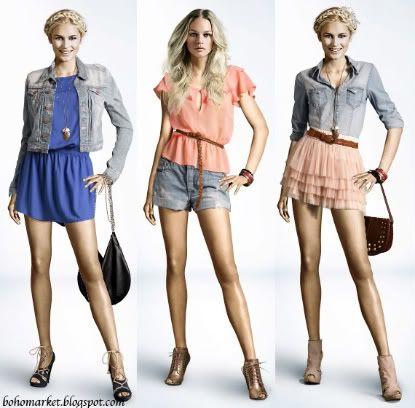 11. Shoes!: Platform shoes, clogs, beaded sandals, lace up sandals, etc. I know that not everyone likes clogs, but I think that the ones for this Season are kind of cute and I like the way they look with romantic & flowy dresses. What do you think? Would you wear them? Here are some of my favorites shoes!
11. Zapatos! Plataformas, zuecos, sandalias con piedritas, sandalias que se amarran, etc. Se que no a todas les gustan los zuecos pero los que he visto hasta ahora me han parecido lindos y me gusta como lucen con vestidos románticos y con vuelos. Que les parece? Se los pondrían? Aqui les dejo algunos de mis zapatos favoritos!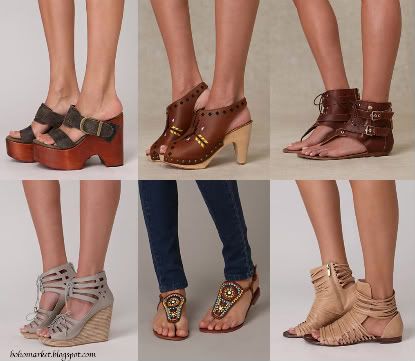 Hope you like my little selection. I also wanted to thank everyone who participated on the Modcloth giveaway! All the looks you girls created are super cute! I'll be announcing the winner as soon as possible. Stay tuned :) I'll also get in touch with the winner via email or blog. Thanks a lot and hope you have a great day!
Espero que les guste mi pequeña selección. También quería agradecerles por participar en el concurso de Modcloth! Todos los looks que han creado son hermosos! Estaré anunciando al ganador (ra) tan pronto como sea posible. Esten atentos :) También me pondre en contacto con el ganador (ra) ya sea por email o blog. Mil gracias y espero que tengan un lindo día!
Photos 1-2-3-4-5: Urban Outfitters
Photo 5-Romper: Free people
Photo 6: Urban Oufitters & Asos
Photo 8: Free People-Urban Outfitters
Collages & Denim looks: Boho Market