What would I buy on

Modcloth

if I were the winner of the $50.00 gift certificate of the Alice in Wonderland challenge? Well, you know I can't participate in the contest of course, but I'm excited that one of my readers will be the winner :)
I saw lots of adorable things to buy! The good thing about Modcloth is that even if the item is not available anymore, you can leave your email and they notify you as soon as they have the item available to purchase, I love that! These are some of my choices, but of course there are a lot more things to choose from.
Ayer estuve pensando que cosas compraria en

Modcloth

si fuera la ganadora del concurso de Alice in Wonderland, por supuesto que no puedo participar, pero estoy contenta de que uno de mis lectores sera el ganador(ra) :)
Vi muchas cosas lindas para comprar! Lo bueno de Modcloth es que aunque el producto ya no este disponible, dejando tu email ellos te notifican cuando el producto este disponible nuevamente para comprarlo, eso me encanta! Estas son algunas de las cosas que escogi, pero por supuesto que hay mucho mas de donde escoger.
I'm currently loving 'hearts' on clothing and accessories,
so this skirt is perfect! I can see a lot of ways to combine it
and the silhoutte is so adorable. I also love the bow on the waist.
I'm also in love with long necklaces,
lots of chains on the same necklace, but the skinny ones,
I especially love the one in the picture
Ando un poco obsesionada con los corazones últimamente,
tanto en ropa como en accesorios, por esta falda me parece perfecta!
Me parece super que se puede combinar de muchas maneras
y la silueta es super adorable. También me encanta el lazo en la cintura.
También adoro los collares largos, muchas cadenas delgadas como las de la foto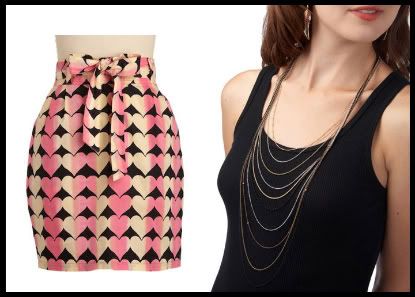 The bubble skirt of this dress just makes me happy!
Besides I love the little ruffles on the front.
More delicate chains with a little bird on the side.. love it!
And a pair of edgy lace up boots to finish up the look!
El estilo bubble de la falda de este vestido me hace feliz!
Ademas me encanta el detalle del frente.
Mas cadenitas delicadas y un pajarito al lado derecho del collar..me encanta!
Y un par de botines con pasadores para terminar el look!
I want a floral dress like this one!
I love flowers and I find this print bold & beautiful.
I also like the shape of this dress, I think it shows off
the waist and gives the body a beautiful hourglass shape.
The necklace is super lovely as well and I adore this watch,
no wonder it's sold out, but I'm waiting that
Modcloth notifies me when it's available again.
Quiero un vestido floreado come este!
Me encantan las flores y este estampado me
parece fuerte y bello. También me encanta la forma del vestido.
Pienso que resalta la cintura y la da al cuerpo
una linda forma de reloj de arena.El collar me parece hermoso tambien.
Adoro este reloj, no me sorprende que ya no quede ninguno,
estoy esperando con ansias que Modcloth me notifique
cuando este a la venta de nuevo.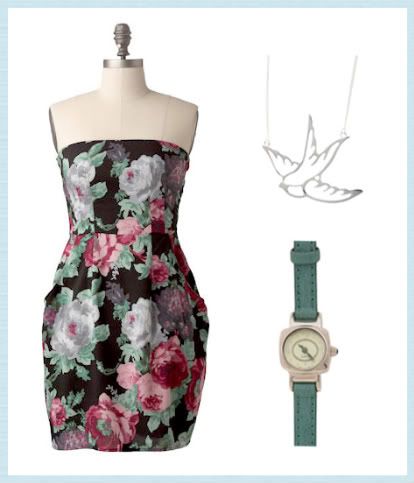 To keep the boho look, I picked this lovely embroidered
dress that makes me dream about Spring!
and pair of strappy wedges.
I added a pair of boots (if I want to wear this dress in
Fall with a cute cardigan) and another option for
and a super lovely necklace! What do you think?
Para mantener el look Boho, escogí este lindo vestido
bordado con florecitas que me hacen sonar con la primavera y
con este par de botas y un collar en forma de
corazón que me encanta! Que les parece?
And last but not least, some cute little things
I love not only for myself, but for my friends! :)
Y por ultimo, muchas cositas lindas
no solo para mi sino para regalar! :)
You still have time to participate in this contest,
just go

HERE

for the rules.
You have until next Wednesday (March 16th) to submit
the look you create on

Polyvore

. You can also spread the word about
this contest if you'd like, I'd really appreciate it! :)
Thanks for participating!!
Hope everyone has a lovely weekend!
Todavía tienes tiempo de participar en el concurso, solo dale click

AQUI
para ver las reglas del mismo. Tienes hasta el próximo Miércoles (Marzo 16)
para presentar el look que hagas en
Polyvore
.
Si gustas,
puedes invitar
a tus amistades a participar y esparcir la noticia, te lo agradecería mucho :)
Mil gracias por participar!!
Que tengas un lindo fin de semana!