Oh yes! I'm super excited for this great giveaway! My favorite store

Modcloth

is kindly giving away a $50.00 gift certificate! isn't this awesome? This giveaway is only for Boho Market readers/followers :)
This time Modcloth and yours truly wanted to do something a little different and since the film Alice in Wonderland is so popular right now, we decided to use it as inspiration!
Here are the rules to participate in this giveaway:
1. Go to

Polyvore.com

(Create an account, If you don't have one yet)
2. Use your creativity, passion for fashion and the most important: ONLY Modcloth products, to create a look inspired by Alice in Wonderland!-You can use other elements like backgrounds, text or photos from Alice in Wonderland to complete the collage-See example below.
3. Then, come back here and leave a comment including the link to the look you just created. Only one look per person.
4. The winner will be chosen by

Modcloth

. You have until next Wednesday (March 17th) to submit your look. After that, it will take a couple of days to choose the winner. As soon as the winner is chosen, I'll announce it on my blog :)
5. Please don't forget to include your e-mail when you leave your comment. This is a worldwide contest! Yay!
The following is just a little look I created on Polyvore using Modcloth pieces and the Alice in Wonderland inspiration. I decided to go for the read, white and black hue. Those colors are inspired by the colors of the Queen of Hearts, but I kept the look kind of sweet and girly like Alice. The name of this look would be: 'Alice meets the Queen of Hearts'
*If you have any question, please don't hesitate to contact me via email: giovanna.fashiondesign@gmail.com Thanks!
Oh si!! Estoy super contenta por este concurso! Mi tienda favorita,

Modcloth

estará regalando un certificado de $50.00 para comprar en su tienda! Este concurso es solo para los lectores de Boho Market!
Esta vez Modcloth y esta servidora cambiamos un poquito las reglas del concurso asi que aprovechando la fiebre de la película Alice in Wonderland, decidimos usarla como inspiración. Las reglas del concurso son las siguientes:
1. Entrar a

Polyvore.com

(Si no tienes una cuenta aun, crear una)
2. Usando tu creatividad, pasión por la moda y en especial SOLO productos de Modcloth, crea un look inspirado en Alice in Wonderland. Para completar el collage puedes usar fotos de la película, textos, o fondos. Ver el ejemplo de abajo.
3. Luego regresa aquí y deja un comentario incluyendo el link del look que creaste. Solo un look por persona.
4. El ganador(ra) será escogido(a) por

Modcloth

. Tienes hasta el próximo Miércoles (Marzo 17) para entrar al concurso. Después de esto, tomara unos días para seleccionar al ganador(ra) del concurso. Tan pronto como sea escogido(da), lo anunciare en mi blog :)
5. Por favor no te olvides de incluir tu e-mail en el comentario. Este concurso es para todos asi que no importa en que pais estes!! :)
El siguiente es un pequeño look que cree en Polyvore usando los productos de Modcloth y esta inspirado en Alice in Wonderland. Decidí usar los colores rojo, blanco y negro, para estos colores use como inspiración los colores de la Reina de Corazones, pero mantuve el look dulce y angelical de Alicia. El nombre del look seria: 'Alicia encuentra a la Reina de Corazones'. Cualquier duda me escriben a: giovanna.fashiondesign@gmail.com Gracias!!!
'Alice meets The Queen of Hearts'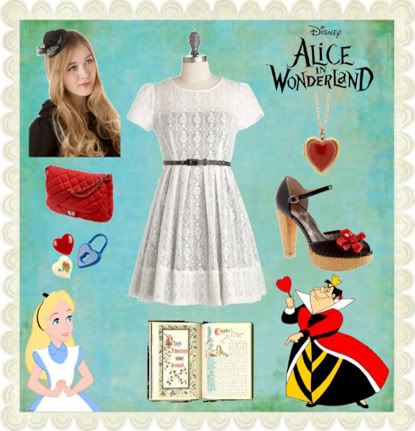 ♥♥ Good luck and I can't wait to see your looks!

♥♥