Refinery 29 and Urban Outfitters were hosting a
tag sale

this weekend

. Dozens of designer's pieces held at Space 15 Twenty in Los Angeles. Stock of designers like Band of Outsiders, Wren, Rogan, Steven Alan, Vena Cava, Sophomore, TenOverSix, What Goes Around Comes Around, vintage, and many more. Additionally, a portion of the proceeds from the Tag Sale benefited Housing Works' services for homeless and low-income New Yorkers living with HIV/AIDS. I went to the event and really enjoyed it! I especially loved the shoes and the accessories. They also had some beautiful vintage pieces! Here are some photos I took during this event :)
Refinery 29 y Urban Outfitters organizaron un evento de venta de ropa de diseñadores. Se podían encontrar decenas de marcas de diseñadores en esta venta que se dio lugar en Space 15 en Los Angeles. Diseñadores como Band of Outsiders, Wren, Rogan, Steven Alan, Vena Cava, Sophomore, TenOverSix, What Goes Around Comes Around, vintage, y mucho mas. Ademas una parte de lo que se recaudaría en este evento iría a beneficio de casas que le brindan ayuda a la gente que vive en la calle y a gente de escasos recursos y con HIV/AIDS en New York. Fui al evento y me gusto mucho! Todo estuvo super lindo ahí; Me encanto todo, especialmente la colección de zapatos y accesorios. También había preciosas piezas vintage! Aquí algunas fotos que tome en el evento :)
These lovely girls kindly let me took pictures of their outfits.
Thank you girls for being super nice!!
Estas lindas chicas amablemente me permitieron tomar fotos de sus outfits.
Gracias por ser tan lindas chicas!!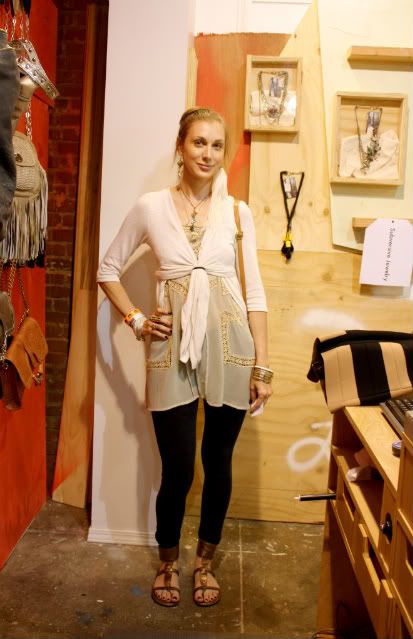 Hope you like them. I'd love to know what you think :)
Espero que les guste. Me encantaría saber que les pareció :)
Que tengan un lindo Lunes!!