I've always loved flea markets! You can find so many lovely and unique things there...I spent a couple of hours walking around, shopping and taking pictures...love everything about it! I have to get there earlier next time because I definitely needed more time to explore the whole place, it was huge! For the ones who live in California, you may know this place already; I'm talking about the Fairfax flea market. They open every Sunday and you have to pay a $5 fee to get in. There's an ATM machine near by, but I always prefer to carry cash just in case. The prices aren't very cheap; however, you can find very cute stuff and still negotiate with the seller if you buy more than one piece. So these are some of the pictures I took on my thrifting adventure, hope you like them and thanks for the lovely comments!
Siempre me han gustado los flea markets! Se pueden encontrar tantas cosas lindas y únicas ahi...Pasé unas cuantas horas caminado por los alrededores y tomando fotos...me encanto todo! Tengo que llegar temprano la próxima vez porque necesite mas tiempo para explorarlo por completo, es realmente grande! Para los que viven en California, ya deben de conocer este flea market; me refiero al flea market de Fairfax. Habren todos los domingos y se tiene que pagar cinco dolares para entrar. Hay un cajero automático cerca, pero yo siempre prefiero llevar dinero en efectivo en el caso de que la maquina no funcione. No te olvides de llevar dinero en efectivo cuando vayas. Los productos no son tan baratos, pero puedes encontrar cosas lindas y negociar el precio con los vendedores si compras dos cosas o mas en el mismo lugar. Aqui les dejo algunas de las fotos que tome de mi aventura. Espero que les guste y gracias por los lindos comentarios!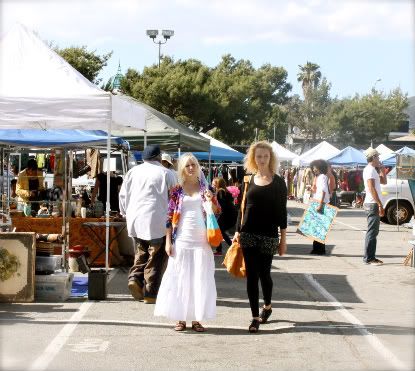 A world full of lace up boots...